On behalf of everyone at House of Animals and Stichting Melief, thank you very much for your donation!
You can follow Sam on her own Instagram account
Thanks to you, Sam can enjoy her old age in a caring place and for the first time, she can watch her piglets grow up in complete freedom. Thanks to you we can tell the life-changing story of Sam and show people how special pigs are.
It is a huge help for us to see that we are not alone, but that we are working together against factory farming to make the world a bit better for animals.
Again, thank you very much!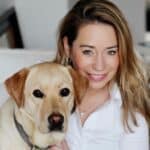 Karen Soeters
Founder House of Animals